Bicycles have been around us for a long time and now have evolved from pedal-powered to battery-powered e-bikes. As a result, electric bikes are becoming more popular, and many women prefer to ride a bicycle for their daily routines. So for that purpose, we have selected the top 8 best electric bikes for women to choose from.
The electric bikes for women are designed for comfort and for those who wear jeans or skin-tight dresses. By eliminating the crossbar in a conventional bicycle, the e-bike for ladies is easier to mount and get off of it. In addition, the e-bikes are unisex, and both men and women can ride them.
Women's electric bikes have been on the streets for a while now, but those were bulky, problematic, and expensive. In addition, their battery life was short, and replacement parts were almost non-available. With time but now electronic bikes are more powerful with longer battery life and are lightweight.
Just like ordinary bicycles, ladies e-bikes have a lot more advantages than disadvantages. First, it helps lower our carbon footprint by reducing noise and air pollution. While the longer battery life means it can travel faster and farther than before. And bicycle riding is known as the best workout routine, so women can stay healthy by riding an electric bicycle.
8 BEST ELECTRIC BIKES FOR WOMEN IN 2022
To find out more about Best Electric Bikes For Women, you find the top 7 best e-bikes for ladies with detailed features. It will be followed by a buyer's guide to help you choose your desired e-bike.
1 . Nakto 250W Female Electric Bicycle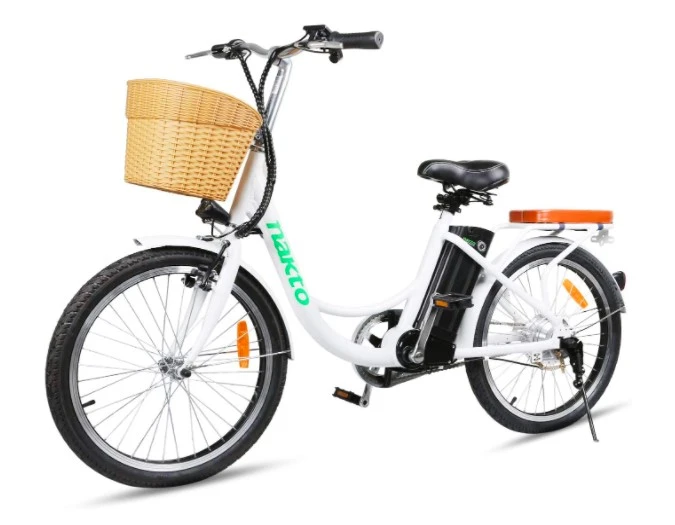 The Nakto e-bikes are suitable for teenagers and women who want a convenient ride to school or work. Unlike other e-bikes for women, it is offered at an affordable price and fits your budget. Not only that, but it provides joyful rides with fewer efforts. So let's take a look at some of its main features.
Material & Installation
The Nakto has a unisex design primarily built for women. It has an iron frame with an aluminium hub and weighs 62 pounds. The maximum weight bearing capacity is 200-250 pounds which is more than enough to carry two adults as it has a rear seat for that.
This electric bike for women arrives 90% assembled, and putting it together is a fun little task. It comes with Battery, Smart Battery Charger, Tool kit, User's Manual, and Warranty Card.
Electric Motor & Battery
The 250W 36V brushless DC motor is used to power this best e-bike for ladies. It can propel the e-bike to a maximum speed of 25-30 MPH. While the battery that powers this motor is a 36V 10Ah Lithium cell battery. The battery is placed inside a sealed removable pack.
The battery takes around 4-6 hours for a full recharge by an intelligent battery charger. Its battery backup timing depends on the mode you are travelling. However, on average, it can go as far as 20 miles on a single charge.
Riding Modes
This best electric bike for women has three modes That can be changed from the digital display on the left handlebar. These are full-electric modes by which the electric motor is engaged constantly, and there is no need for paddling. Then there is the regular paddling mode in which the electric motor is switched off.
The PAS or Paddle Assist mode is when the electric motor provides a boost while you are paddling. Its boost can be adjusted according to your needs while riding. As a result, not only paddling becomes easier, but it increases the battery life as well.
Safety & Security
This best e-bike for ladies is equipped with a "front V" brake and rear expansion brakes. These types of brakes have a lot of stopping power. In addition, the bright LED headlamp provides night riding convenience.
To prevent this bike from being stolen, it has a lock with a safe configuration, and the battery has a key lock. With these security features, you have peace of mind without worrying about your e-bikes security.
Warranty
The Nakto best e-bike for ladies is covered with a 1-year warranty and provides after-sales service. If you face any problems with this e-bike, customer service will be available 24×7 to assist you.
With so many great features, the Nakto is one of the best electric bikes for women.
Product Technical Details
2. City Electric Bicycle for Woman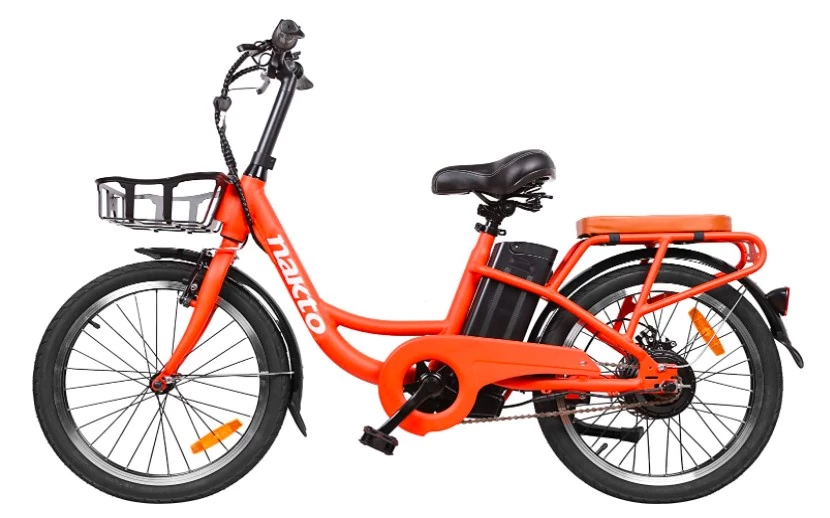 The compact Nakto electric bicycle for women is for those facing difficulty while riding and parking a standard-size bike. With 59 inches in length, this bicycle is easier to ride and park. Its metal basket can carry items weighing up to 5kg, and the carrier is cushioned for an extra passenger. Alongside these features, this bike has many more features to be explored, so let's take a look at those.
Design & Construction
This compact electric bicycle for women has a frame made out of carbon steel. It is tough, durable, and lightweight. It weighs 45 lbs and measures 59 x 38 inches, while the seat height is also adjustable up to 5 inches for an enjoyable ride.
Like other Nakto e-bikes, it is delivered 90% assembled and requires front tire and handlebars assembling. However, once built, it is ready to hit the roads, and no matter if it's rain or snow, it is entirely weatherproof.
Battery & Electric Motor
The Nakto best electric bikes for women come equipped with an electric motor with 250W power ratings. This brushless electric motor is installed inside the rear wheel hub and provides instant acceleration. With the help of an electric motor, you can ride this bicycle effortlessly at 16 mph top speed.
To run the electric motor, there is a removable battery pack that has a charging capacity of 36V 10Ah. It takes 4-5 hours for a full charge and lasts somewhere from 18-26 miles. The range of this best e-bike for ladies depends on which mode is selected for riding. The battery and electric motor combined makes everyday bike riding enjoyable and comfortable.
Riding Modes
To ride the bicycle according to your needs, the Nakto best electric bikes for women have three modes. The three modes include all-electric mode, auxiliary bicycle mode, and regular paddling mode. These modes can be activated or deactivated from the LCD control panel on the handlebar.
The electric bicycle mode works without paddles when activated. Its throttle handle on the right side can control the speed. The top speed on this model is 16mph, and the maximum range is 25 miles.
The auxiliary or paddle assist mode combines power from the motor and paddles at the same time. This way, less effort is required to ride the bike, increasing range and battery life. In this mode, the maximum distance of 30 miles can be reached with one charge.
This bicycle for women doesn't have a gear system, unlike other Nakto bikes, so it is easier for novice riders. Meanwhile, the lack of a gear system makes it easier to maintain.
Safety & Security
The best electric bikes for women by Nakto offers many safety features. Such as the braking system on this e-bike. The front V brakes and rear disk brakes provide better stopping power than other bikes. And along with fat anti-slip tires, now ride confidently through any conditions.
Warranty
The manufacturer offers a 1-year warranty on parts of this best e-bike for ladies.
Product Technical Details
3. HOTEBIKE Electric Mountain Bike For Women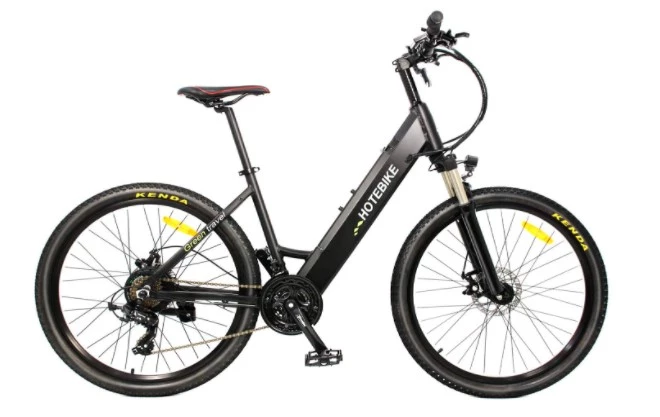 The Hotbike is here with its aggressive-looking electric bicycle for women and men. With many features such as gear shifters and brake lever combo, a hidden battery compartment, and a sharp design. Let's check out its main features in detail.
Bike Design
The Hotbike city electric bike is a simple yet bold design. Its V-shaped step-through frame is unisex and resembles a mountain bike. And the aluminum alloy frame is lightweight and sturdy at the same time. The total weight of this bike is 55 lbs.
This e-bike for ladies has another unique feature which is the front fork suspension system. It allows smooth shock-free riding and has a lock system to adjust the suspension according to riding conditions and terrain. This feature is standard on mountain bikes.
Battery & Electric Motor
The Hotbike is designed in a way that the battery is concealed inside the oblique bar. It is removable and lockable while can be charged separately from the bike via a USB charger. Its capacity is 36V 10Ah and charges in 4 hours. The backup provided by this battery is around 55 miles per charge. The battery backup depends on the mode and driving conditions.
The electric motor on this bike is located inside the rear wheel hub and is a brushless DC motor. This motor is more powerful and has 36V 350W output. This electric motor provides a sweat-free comfortable riding experience.
Handlebar Controls
The handlebar of this Hotbike is a little crowded with lots of controls that might take time to get used to. It sports a PAS control adjuster, brake lever, gear shifter, and indicator from left to right.
A large LCD display in the middle indicates Assist adjustment, distance, mileage, temperature, voltage, battery life, etc. The right side handlebar has a gear shifter, horn, thumb throttle, and brake lever.
Riding Modes
There are three riding modes and 5 PAS modes to choose from for a better riding experience. Apart from standard pedal mode, the all-electric mode works wholly independently and only utilizes an electric motor and battery. The thumb throttle is used as an accelerator to adjust the speed. The PAS modes can be chosen from its dedicated controller. This mode combines paddles and an electric motor to achieve more distance which can reach up to 50 miles.
This Hotbike is hot on gears as it has 21 gears to select from via two gear levers. Now choose any gear at any speed and ride this e-bike like there is no tomorrow.
Safety & Security
The security feature built inside is the hidden battery compartment and the locking system on the battery. This prevents the e-bike from being stolen.
This electronic bicycle for women has a unique braking system. It has sensors on the brake levers, which, when pressed, deactivates the electric motor to prevent it from burning out. The front and rear disk brakes combined add a lot of stopping power. In addition to that, the fat tires are nos slip and provide plenty of traction in every environment.
Warranty
The Hotbike is one of the best electric bicycles for women, which has one-year parts warranty coverage. And gives a 30 days return option.
Product Technical Details
4.NAKTO Santamonica Electric Bicycle for Women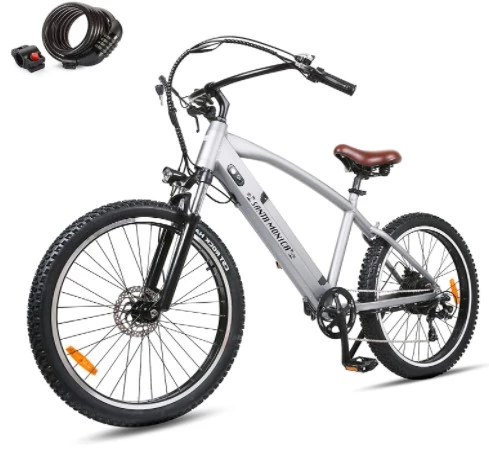 Suppose you want more power and longer battery life from an electric bicycle for women. In that case, the Nakto Santamonica is a perfect choice. It has an electric motor that is more powerful than other e-bikes on our list. Let's check out some of its other features.
Bike Design
The Nakto Santamonica is a diamond frame bicycle suitable for men and women. Its aluminum alloy frame is super lightweight and powder coated for protection. Although the assembled bike weighs more. The front fork has shock absorbers for smooth riding. And the disk brakes allow greater stopping distance.
The Santamonica best electric bikes for women arrive semi-assembled. Its front end needs assembling, which is an easy task. Once assembled, enjoy the smooth and comfortable rides every day.
Motor & Battery
Unlike other Nakto bikes, the Santamonica best e-bike for ladies is equipped with a powerful electric motor. Its power output stands at 500W and can deliver 25mph top speed. The acceleration is instant, and it can conquer bike trails, city streets, and anywhere else.
For a bigger electric motor, the battery is capable of providing energy to keep it running. The 48V 10Ah capacity battery can last for 72 km on a single charge. This battery pack is removable, lockable, and can be charged on or off the bike.
Riding Modes
The Santamonica has electric and pedal assist modes along with a 6-speed Shimano gear system. These modes and gears can be changed from the digital control panel and gear change lever.
Warranty
The manufacturer provides a 1-year guarantee of free maintenance, replacement, or return of faulty parts.
Product Technical Details
5. NAKTO City E-Bike for Women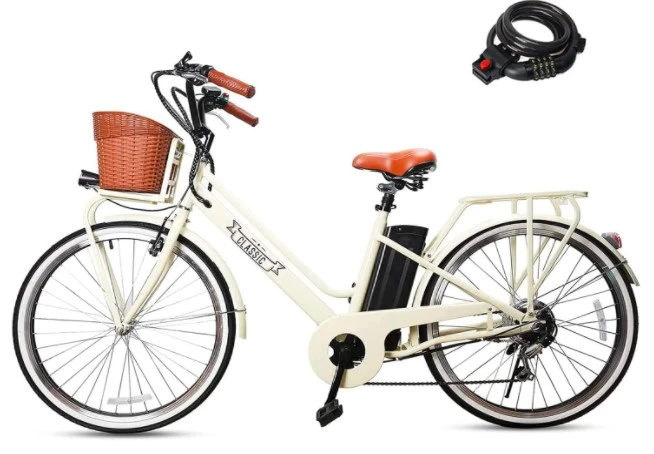 The Nakto classic is a stylish and elegantly designed e-bike. Its step-through frame makes it compact and suitable for city streets, parks, and wherever you want to take it. So now you can have comfort, performance, and exceptional value for money from the Nakto best electric bikes for women. To know more about this best e-bike for ladies, let's take a look at some of its features.
Materials
The Nakto e-bike for women has a frame constructed of ferroalloys. This metal is stronger, lightweight, and durable. These lightweight materials provide a better cycling experience and are not heavy as other e-bikes for ladies. The maximum weight capacity of Classic Nakto e-bike for women is around 250-300 lbs.
In addition to strength and durability, the Nakto classic best electric bikes for women are waterproof. So now riding an electric bicycle for women is easier in rain or snowy environments.
Electric Motor & Battery
This e-bike for ladies is driven by a 250W high-speed brushless motor. This DC motor can reach a top speed of 30 Mph. The motor is located inside the wheel hub and is variable speed controlled. While this power is generated by a 36V 12Ah lithium battery that is removable.
The rechargeable battery has a smart charger that prevents overcharging. Its charging time is 4-6 hours and provides a riding distance well within reach. The range of this e-bike depends on the mode of use which can vary from 30-55 km.
Riding Modes
The best electric bikes for women by Nakto have three riding modes for the rider's preferred choice. Apart from regular pedal riding mode, there are all electric, and paddle assist modes. The pedal assist mode provides a boost by the electric motor while paddling. This mode not only provides extra power but extends the range up to 55 km.
While the all electric mode can take the bike up to 45 km. The speed and level of riding comfort can be increased or decreased by choosing through Shimano 6 gears. Whether it's taking a ride to school, shopping, work, or sightseeing, this e-bike for ladies will be your perfect companion.
Safety & Security
The Nato electric bikes for women have safety features that are crucial for riding them. It includes a braking system with a lot of stopping power and anti-skid tires for confident riding. In addition, the front and rear shock absorbers keep the ride smooth and stable.
This Classic Nakto best e-bike for women has a built-in security feature for anti-theft. Its battery is removable and has key lock security to disable it. These security features allow you to park your bike anywhere without worries.
Warranty
The Nakto e-bike is covered by a 1-year warranty. It covers the battery, electric motor, and other mechanical and electrical parts.
Product Technical Details
6.VIVI Electric Bikes for Women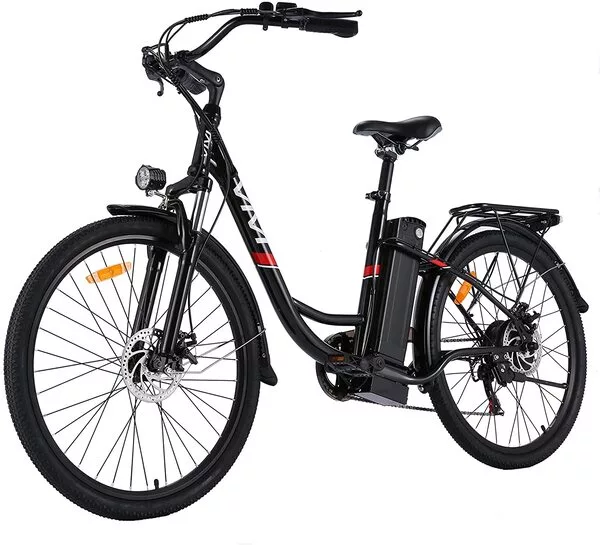 If you are on a tight budget and looking for an affordable e-bike option, then the 26-inch Nakto electric bike for women is for you. Now it's time for women to ride an e-bike of their choice. Whether it's school, work, or casual riding on the streets, VIVI best electric bikes for women will compliment your style everywhere. Let's check out some features of this best e-bike for ladies.
Materials
The unisex step-through frame of this Nakto bike has high-strength carbon steel construction. This makes the frame super light and extremely strong. For extra comfortable rides and stability, the front forks have comfort shock absorbers.
For rider comfort, the seat has padding that prevents sores and acts as a shock absorber. To conveniently remove the battery pack, the seat can be tilted easily. This bike arrives semi-assembled to avoid damage during shipment, so the user must assemble the front wheel and handlebar. This might be tricky for some, but it is a fun DIY project.
Motor & Battery
The heart of this Nakto e-bike is its brushless DC motor. The power ratings on this motor are 350W. This high-speed motor can hit the maximum top speed of 20Mph per hour. The electric motor is assembled into the rear hub of the bicycle for better power distribution. No matter how long or short the distance is, the e-bike will take you from A to B without any worries.
The removable lithium battery pack provides 36V 8Ah power to the motor and can last for 30 – 55 km. It takes about 5 hours to charge the battery and is protected from overcharging. The heaviest component of this e-bike for women is its battery. It also can be charged anywhere to extend the range even further.
Riding Modes
This e-bike for ladies has three modes to travel upon, which are; Paddle assist, electric mode, and paddling mode. The paddle assist can be turned on or off from the controller on the handlebar that also displays battery power. PAS mode is used alongside paddling that provides an extra boost preventing you from getting tired quickly. Therefore it conserves battery power and extends the range further up to 55 km.
While the PAS requires paddling, the electric mode on this best electric bikes for women is run by the motor only. The throttle can be used according to the requirements by pressing the dedicated button on the handlebar. The effective range using this mode is 45 km.
To enjoy riding in different gears, there is a Shimano 6 speed gear to give you a thrill of a sports bike. The gears can be changed while riding by using the lever on the handlebar.
Safety & Security
The safety and security of a bicycle are the concern of every owner, and often their bikes are stolen. To make the bike secure, it has a locking system on the battery to completely shut it off. There is a combination lock provided as well that keeps the bike secure.
This e-bike is equipped with antislip bigger tires in the safety department and performs well in wet conditions. Meanwhile, its braking system has enough stopping power to avoid accidents. And the front LED light shines brighter in the night for a secure ride home.
Warranty & Price
This Nakto e-bike is the most low-priced model so far on our list and is the best electric bike for women due to its affordability and value for money. On the other hand, the 1-year warranty covers the battery, electric motor, and other parts.
Although it might be a little heavier or difficult to assemble, it is the best electric bike for women that is affordable.
Product Technical Details
7. PASELEC Electric Mountain Bike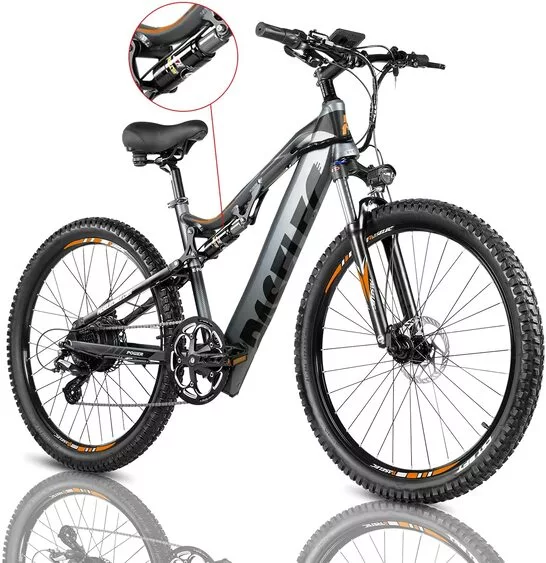 Mountain bikes are an absolute favorite of every young adult. But the PasElec has reinvented the regular mountain bike and turned it into a hybrid electric two-wheeler. Now it's more fun to ride and with the power assist from the electric motor riding over slopes is child's play. So let's check out some of the main features of the Paselec electric mountain bike for women and men.
Design
The Paselec GS9 eMTB is designed with great attention to detail. The low-profile slim aluminum alloy frame houses the battery in a very well-thought-out design. The frame is lightweight but gains extra pounds due to the battery, but the weight balance is perfect, and it doesn't feel cumbersome.
The GS9 e-bike for ladies has a dual shock-absorbing system. Its front fork has lockout shock absorbers, and the rear has four-link Aire saddle suspension. So no matter how bumpy the terrain is, the best electric bikes for women will provide smoother rides.
Power Train
The GS9 e-MTB is powered by a 500W brushless DC motor enclosed in the rear wheel hub. Coupled with an eight-speed gear shifter, the motor can reach a top speed of 28mph. With this powerful motor, you get quick acceleration and easy uphill rides.
The motor can't take you anywhere without a battery backup; therefore, the 14V 13Ah battery is installed inside the frame. This intelligent design keeps the battery dust and waterproof. After charging the battery, it can last for as long as 50 miles.
Riding Modes
There are various modes for riding this e-MTB for women and men. This e-bike comes equipped with five power assist levels for the motor to provide accurate power output for riding assistance. Such as when going uphill, the sensors tell the motor to provide more power for the descent.
The other riding modes include the power assist, all-electric and regular riding mode. It depends on the rider's requirements to choose the type of mode. The all-electric mode takes all burden off the feet to accelerate the bike, while the power assist mode boosts paddling. If the rider wants to shed some sweat, the rider can shut down all the electric modes.
Braking system
Breaks are an essential part of a bike, and we often come across funny accidents of bikes flipping over when braking. But the GS9 best electric bikes for women and men come equipped with hydraulic disk brakes with dual pistons. In addition, the braking system has motor inhibitors for more responsiveness and safety.
Warranty
Like any other best electric bikes for women, the GS9 e-MTB arrives with a one-year warranty for the frame. And a six-month warranty on the electric motor, battery, and charger. So Now ride with comfort and joy anywhere.
Product Technical Details
8.Wallke X3 Pro Electric Bike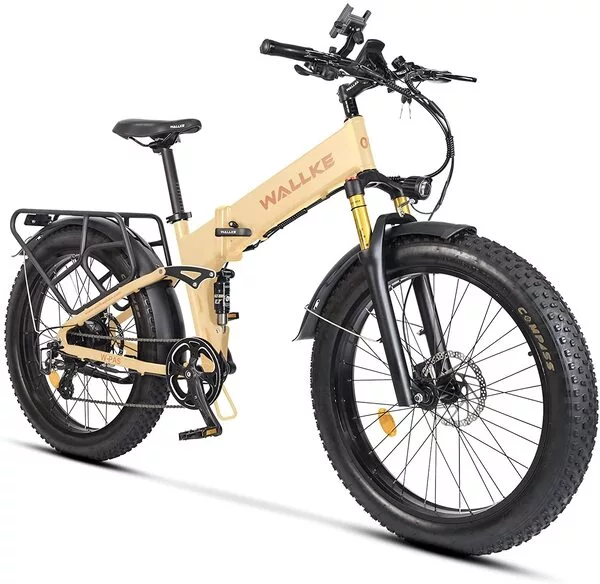 The days of traditional bicycle designs might be over as the single tube foldable e-bikes are becoming popular. Similarly, the W Wallke X3 pro is an e-bike that is easy to ride and store due to its foldable design. Not only this, but tons of features will amaze you; let's check them out.
Bike Design
The aluminum frame of the W Wallke X3 pro is a single tube foldable design. This feature makes it easy to transport. Despite being a foldable frame, it is strong and has seamless welding for frame rigidity.
For a smoother bump-free ride, the front and rear suspension come into action. Upfront, the fork houses lockable shock absorbers, and the rear hydraulic suspension can make the ride smoother on uneven terrain.
For this e-MTB to tackle any terrain, it is fitted with chunky 26inch tires. These high grip anti-slip tires provide bump protection. In addition, the metal fenders keep mud and dirt from splashing all over the place and keep you clean.
Electric Motor & Battery
For an e-MTB to conquer any terrain, the electric motor has to be powerful enough. So the X3 Pro best e-bike for ladies, has a 750W electric motor enclosed in the rear wheel hub. It allows a maximum speed of 30mph and enough torque to tackle slopes.
The 48V 14Ah battery pack is well hidden inside the foldable frame. This Samsung high-capacity battery lasts for up to 60 miles per charge. It can be charged either on or off the bike as it is removable.
Control Panel
You will find various control panels on the handlebars of this e-bike. These are the brake levers, riding mode selection panel, throttle panel, gear shifter, phone older, and an LCD showing speed, charge, etc.
Riding Modes
There are various throttle modes for the motor and three riding modes. Through the throttle modes, you can adjust the bike speed. These speed adjuster settings are essentially cruise control for the bike. The eight-speed Shimano gear system can also change the cycling speed.
The three riding modes include the electric, power assist, and sport mode. It depends on which mode the rider needs which mode to select. The mileage also depends on the riding mode chosen as each requires different power output from the battery.
Braking System
The W Wallke X3 pro best electric bikes for women have a tremendous stopping power braking system. Whether riding on rough terrain, muddy conditions, or in rain or snow, you can rely on the hydraulic disk brakes. In addition, these brakes feature another intelligent feature by which power to the motor can be cut off while braking, which stops the bicycle quickly.
Warranty
This e-mtb comes with a one-year motor and battery warranty, while the charger and controller have a 6-month warranty. However, you should note that the warranty only applies to the replacement of faulty parts.
Product Technical Details
Classes of electric bikes
electric bikes are categorized into classes denoting their degree of motor assistance for regulatory reasons. It is crucial to determine what class of electric bike you require:
Class 1
These bikes are pedal-assist, meaning that they only start when you pedal, and by 20mph they cease to assist you. eBikes in class 1 are the simplest and most affordable option. Moreover, from a regulatory point of view, they are the most widely accepted eBikes. A traditional bicycle can be used anywhere there is a bike lane, a multi-use trail, or a road. Beginners often start with class 1 eBikes and if you're a newbie, obtaining a class 1 eBike can be a great way to get started
Class 2
The maximum speed of an eBike, like that of a class 1, is 20 mph. Regulations for these bikes are stricter, and they are less widely accepted than class 1 electric bikes.
Class 3
Just like class 1, eBikes are pedal assist. However, they allow you to go up to 28 mph with greater assistance. However, they are more expensive than Class 3 because they are faster, more powerful, and more effective. Choosing a class 3 eBike is the best choice if you're always carrying something with you.
Buyers Guide
Before setting out to purchase the best electric bikes for women, there are certain features to check beforehand. Following are some of these critical features to lookout for.
E-Bike types
The most common type of e-bikes is the city bike. These are hybrid e-bikes that have a step-through unisex frame. It combines the use of an electric motor and paddles for riding. As compared to other bikes, its handlebars are usually straight, and seat positioning is comfortable. The advantage of city e-bikes is that they are affordable, multipurpose and take you from A to B.
Other types of e-bikes are foldable, e-mountain bikes, e-road, and e-gravel bikes. These are special-purpose e-bikes and solely depend on your needs.
Motor Positioning
Some e-bikes arrive with electric motors inside the hub, while others are centrally located. The mid-drive or centrally located motors allow better weight distribution and stability. In addition, these types of motors are connected to the drive train providing better performance on steep gradients. However, their downside is that these types of e-bikes are expensive.
Meanwhile, the hub-mounted electric motors are quieter, performing well on roads, city streets and elsewhere. The main advantage of rear-mounted motors is that these types of e-bikes are cheaper.
Battery
For an e-bike, battery life is significant to travel farther as possible. Therefore, it is essential to know how long the battery will last. Make sure to check the power ratings of the battery. The power ratings are measured in "Watt-hours" and "Amp hours". The e-bike battery's power rating ranges from 7-19Ah. The higher the power ratings, the longer it will last.
E-bike batteries have other factors to consider as well
Charge Time Of Battery
A large-capacity battery will take longer to charge from empty than a standard battery, typically three to five hours. E-bike commuters may want to purchase additional chargers (or carry their own chargers) if they plan to commute by e-bike. They can also purchase faster chargers.
Number of batteries
You can use two batteries on some e-bikes at once This can allow you to extend the time you can ride -and if one battery dies, you have another one to fall back on. Alternatively, you can purchase an extra battery and always have a fully charged one on hand or replace yours once it has reached the end of its lifespan (typically after several thousand charges).
Mounting
The integration of batteries in the frame leaves space for a small bike bag or bottle cage. External batteries are lighter and easier to replace.
Modes
An e-bike should be equipped with various modes and settings for an enjoyable ride. The two main modes are electric and paddle assist modes. In addition, there should be convenience in engaging, controlling, and selecting different settings. For that purpose, there should be separate controllers ergonomically placed on handlebars for easy reach.
Bike Weight & Durability
E-bikes are known for their extra weight due to electric motors, battery and other electronic components. E-Bikes usually weigh up to 25kg. So make sure to look for lighter materials. Mostly aluminium or carbon steel frames are used, which are more lightweight and durable. For an e-bike being durable and weatherproof is also essential. So make sure the frame is rustproof and powder coated for protection.
What are The Other Factors to consider in e-Bike for Women
Using an LCD on your handlebars you can monitor your battery life, your miles traveled, pedal-assist mode, your speed, and many other things.
An integrated smartphone enables you to access certain apps, such as GPS, service records, and others, via a wireless connection
Using racks will allow you to move heavy loads more easily if you're worried about moving items and commuting
The built-in security system locks the wheel of your bike to prevent theft. A battery lock can also be purchased for additional protection.
You can find out what features each bike has and how its price varies based on its sophistication
FAQ'S
Q. What is a step-through bike frame?
Ans. A step through a bike frame is also known as an open frame. It is designed as unisex friendly for easy mounting and dismounting. The top tube is eliminated in the step-through frame.
Q. What does PAS stand for?
Ans. PAS stands for "Paddle Assist". This is a riding mode of an e-bike which is a combination of paddling an electric-motor boost. PAS mode also reduces the amount of energy required to ride an e-bike uphill.
Q. Can I charge the battery while I am travelling?
Ans. To charge the battery pack of an e-bike, it can either be removed or charged on the bike. It can be charged at any power outlet and takes around 5-6 hours for a full recharge.
Q. How long does the battery last on the e-bike?
Ans. The battery life depends on riding mode, as paddle assist mode lasts longer than the all-electric mode. Typically an e-bike can travel up to 50 miles.